Dr. Pauleen Bennett is Director of Regional Operations in the School of Psychological Science at La Trobe University.
Pauleen combines her academic work at La Trobe with a range of community activities designed to improve human-companion animal relationships.
She leads a highly productive team of researchers at the Anthrozoology Research Group and is director and chair of the Australian Anthrozoology Research Foundation, a non-profit foundation set up to raise money to support students investigating the potential benefits for human health of engaging with companion animals.
Pauleen has adjunct appointments at Monash University and The Ohio State University (USA) and enjoys spending her free time hanging out on her farm with her dogs, horses and goats.
In this episode (#19) we talk to Pauleen about the exciting but relatively new field of positive psychology.
Podcast
Publications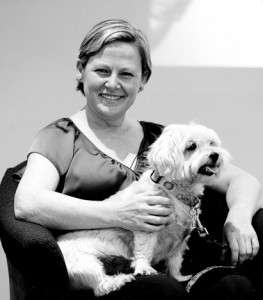 Bennett, P. C. (2013) Why science can't really tell us whether pets are good for health. The Conversation.
King, T., Marston, L.C., and Bennett, P.C. (2012). Breeding dogs for beauty and behaviour: why scientists need to do more to develop valid and reliable behaviour assessments for dogs kept as companions. Applied Animal Behaviour Science, 137, 1-12.
Bennett, P.C. (2010). Putting the pieces together: using science to improve relationships between people and their canine companions. Canine Science Forum, July 25-28, Vienna, Austria.
Bennett, P.C. (2010). People, pets and positive psychology (transcribed from Radio Australia). Second Australian Positive Psychology and Well-Being Conference, February 12-13, Caulfield, Victoria, Australia.
McGreevy, P.M., & Bennett, P.C. (2010). Challenges and paradoxes in the companion-animal niche. Animal Welfare, 19, 11-16
Many more publications available via Pauleen's LaTrobe University Profile
Links
Anthrozoology Research Group | ARG on Facebook | ARG on Twitter | AARF on Twitter
Header image: Flickr/bunchesandbits