Imagine deciphering the first form of intentional communication to be recorded in the animal kingdom, such as how chimpanzees communicate.
That's exactly what Dr. Catherine Hobaiter has done after years of following wild chimpanzees in the Budongo Forest of Uganda, Africa.
She studies the evolution, acquisition and flexibility of communication and social behaviour, in particular through long-term field studies of wild chimpanzees.
For the past seven years, Cat has been working as a primatologist at a forest research-station in Uganda to better understand chimpanzee communication and behavior.
She hopes to to advance our understanding of great ape communication, and in addition, by looking at areas of overlap or species specific traits, she hopes to also gain an understanding of the evolutionary origins of language.
In this episode, we learn from Cat about her exciting observations of a communication system where animals don't just share information through behaviour, but deliberately send messages of meaning to each other.
Listen in, and you'll find out exactly how how chimpanzees communicate.
Podcast
How chimpanzees communicate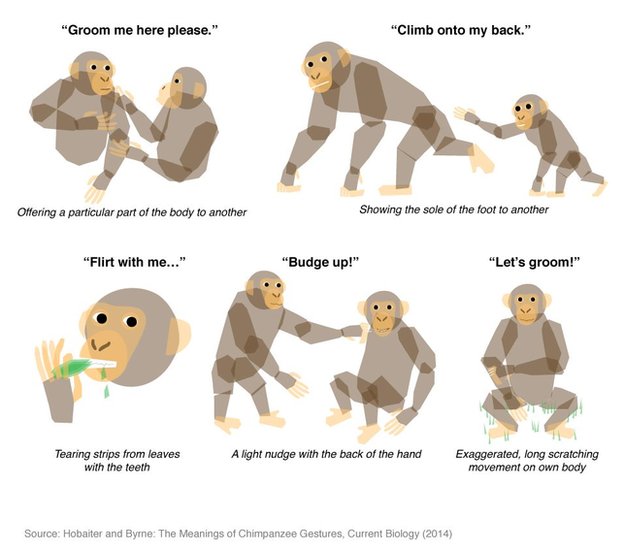 Publications
Hobaiter, C., & Byrne, R. W. (2011). The gestural repertoire of the wild chimpanzee. Animal cognition, 14(5), 745-767. [PDF]
Hobaiter, C., & Byrne, R. W. (2011). Serial gesturing by wild chimpanzees: its nature and function for communication. Animal cognition, 14(6), 827-838.
Hobaiter, C. L., & Byrne, R. W. (2012). Gesture use in consortship: wild chimpanzees' use of gesture for an 'evolutionarily urgent'purpose. Developments in Primate Gesture Research. [PDF]
Hobaiter, C., & Byrne, R. W. (2013). Laterality in the gestural communication of wild chimpanzees. Annals of the New York Academy of Sciences, 1288(1), 9-16. [PDF]
Hobaiter, C., & Byrne, R. W. (2014). The meanings of chimpanzee gestures. Current Biology, 24(14), 1596-1600. [PDF]
Links
University of St Andrews Profile: Cat Hobaiter
Follow Cat Hobaiter on Twitter: @NakedPrimate
Budongo Conservation Field Station
School of Psychology & Neuroscience at St Andrews University in Scotland
All images and media by Catherine Hobaiter, used with permission.