Facts About Bats!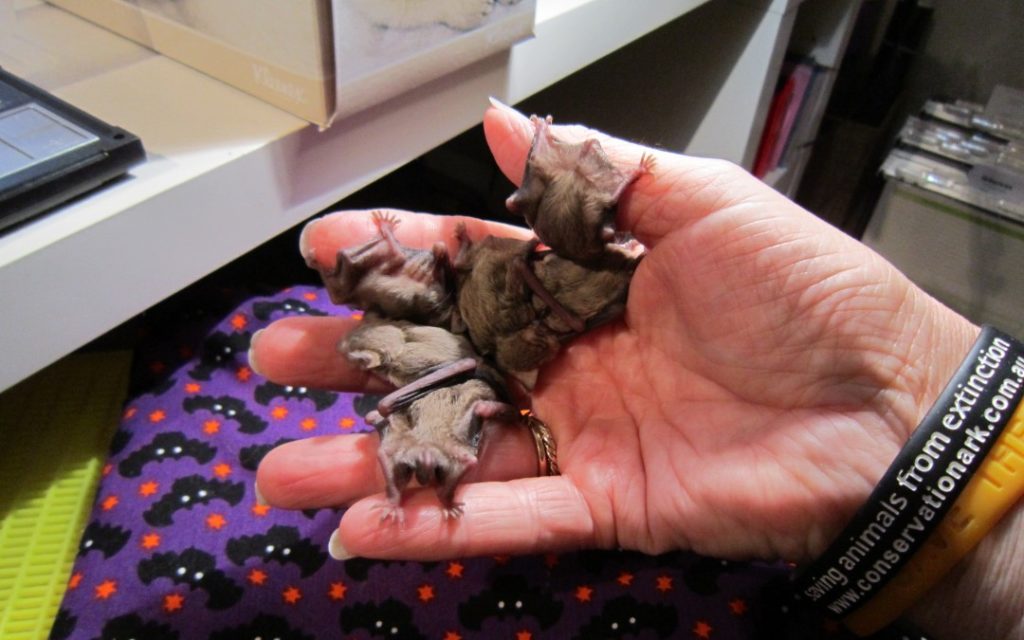 Bats have existed for at least 55 million years.
Bats can consume half their body weight in insects per night during the warmer/summer months. Pregnant bats can consume up to their entire body weight in insects per night in the warmer/summer months.
Microbats go into 'torpor' during the cooler/colder months from approximately May to August.
Flying-foxes do not go into torpor so need to feed and drink all year around.
Bats must not be disturbed when in 'torpor'/hibernation as they can lose their energy/fat supply which has been stored/built-up ready for the winter, resulting in the eventual death of the bats.
Microbats are our most environmentally-friendly pest exterminators feeding on many mosquitoes, beetles, flies, moths, and many, many more insects.
Flying-foxes are one of our essential night pollinators and long-distance 'native tree' planters/foresters.
Bats generally live to between 5-10 years but can live up to 20 – 30 years. A small Myotis Fishing Bat has been recorded living approximately 41 years!! (Susan Barnard – Bats in Captivity Volume)
Bats can hang upside down by their feet, with little effort. It takes more effort for a bat to release the tendons in its feet to fly away.
The word 'Chiroptera' – the Order of Bats – means 'hand-wing'. Microchiroptera (sub-order) relates to our microbats. Megachiroptera (sub-order) relates to our megabats, for example, the Flying Foxes/Fruit/Blossom Bats.
Bats have incredible membranes in between their elongated fingers. They do have a thumb and four fingers.
Bats have varying tails, for example, a tail which is enclosed fully within the membrane like the Gould's Wattled Bat. The Yellow-Bellied Sheathtail Bat has half its tail enclosed in the tail membrane. The White-Striped Freetail Bat and the Southern Freetail Bat have a 'free-tail' with minimal tail membrane. The Flying Foxes have no tail.
The rare Ghost Bat can be viewed at the Adelaide Zoo. These Ghost Bats are part of the Australasian Regional Zoos Program. The Adelaide Zoo has had reasonable success with breeding Ghost Bats, and have bred 17 individuals in the past 10 years.
The most commonly 'heard' bats around Adelaide are the White-Striped Freetail Bat and the Yellow-Bellied Sheathtail Bat (due to humans only being able to hear at approximately 20khz and below).
The most commonly 'rescued' bats are the Gould's Wattled Bat, the Lesser Long-eared Bat, the Southern Freetail Bat, the Chocolate Wattled Bat.
Bats are placental mammals giving birth to live pups/young just like humans do and only have 1-2 babies per year if that! Twins are common in some species of Microbats.
There are presently 8 common species, 6 rare species and 1 endangered species.
Diet, Habitat & Behaviour
Microbats consume approximately half their body weight in insects per night over the warmer/summer months. They are our natural pest-controllers. Their diet is full of many types of insects, including mosquitoes, moths, beetles, flying ants, caterpillars and flies.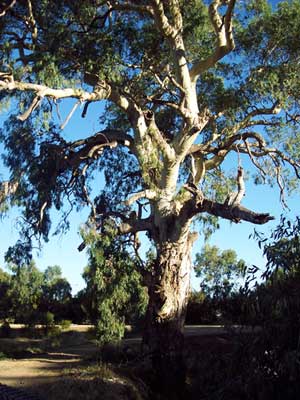 Microbats are nocturnal. They are warm-blooded, placental mammals. They live in tree-hollows, under loose/exfoliating bark, in old sheds, in caves, and also co-exist with humans in their homes, for example, in roof spaces and wall linings without any concerns in general.
In the cooler months, between May to August, our bats go into torpor, similar to hibernation. They must not be disturbed during these cooler months. If they are disturbed, they can lose their precious fat storage/supplies that they have built up ready for their slumber, and possibly die as a consequence.
Microbats are very secretive little creatures. We need to respect their privacy and let them go about their business – eradicating all those pest insects the natural way!
Threats To Our Bat Populations
Humans seem to be the major threat to bats! We are taking away their habitat daily. We are cutting down trees which provide homes for these little nocturnal mammals (tree hollows take approximately 100 years to develop!).
We use too many pesticides in our parks and gardens. Remember our bats eat some of these insects that have been poisoned!
Our domesticated cats and dogs can also bring these little mammals inside to show us what they have caught like they do with mice and baby birds!
Here are some reasons why bats in Australia require rescue and human help:
They are brought in by domesticated cats and dogs
They are brought in because they are found on the ground/exposed during the day (this is not where they should be)
They have fractures to their very delicate bones, generally to the forearm
They have torn membranes – wing damage
They have been electrocuted/severe burns
They have Alopecia – fur/hair loss
They are Anaemic
They are about to give birth
They are very thin
They are still pups – baby bats are called pups
They can land in dog/animal water-bowls and swimming pools and need assistance and drying out before they can be released that evening (depending once again on weather conditions/season, and condition of the bat).  They have come down for a drink and, unfortunately, cannot fly back out again once water-logged
Usually though, a short time in care can see bats released back into their natural habitat.
Cats especially will pierce the skin/tear membranes and will generally infect the bat as cats carry many bacteria on their teeth.  Immediate Veterinarian attention is necessary to help save the bat.  Please go to www.catbib.com.au for the CatBib which can help prevent cats from killing our wildlife.
Disturbance to bats during Autumn and Winter when they are hibernating/in torpor can kill many bats.  So please stay away from caves, especially, where many cave-dwelling bats will colonise and torpor during the colder months.
On occasions, bats are found in homes (roof spaces/wall linings), sheds (under hessian bags or horse blankets), roosting in/on machinery and other cosy, warm spots! Please do not disturb or handle them. Please contact us for assistance.
Natural causes including drought, storms and climate change are impacting on bat populations, especially, the Southern Bent-wing Bat which is now endangered within South Australia!   This species is critically endangered around Australia!!  Further reading is available on the Southern Bent-wing Bat of the Naracoorte Caves. 
Please contact James Smith, FauNature for further advice on bats co-existing with people and the benefits of artificial roost boxes.
The Ghost Bat, Australia's largest carnivorous echolocating bat, was recorded in the past (prior to 1970) around the Flinders Ranges in South Australia.  This bat is a threatened 'vulnerable' species, restricted to caves and abandoned mines. This species is now restricted to Tropical Northern Australia.  Destruction and disturbance have caused their numbers to dramatically decline (Sue Churchill –  'Australian Bats' – Second Edition).  Zoos SA – Adelaide Zoo – have been part of the Australasian Regional Zoo Conservation Program for over ten years with reasonable success, having bred over 17 individuals during this period of time.  The lifespan of the Ghost Bat is approximately 15 to 20 years.
Echolocation – 'Seeing with Sound'!
Bats emit a high-frequency call when searching for their insects. The call is emitted from the mouth and nose of the bat. The sonar pulses/signals emitted are returned to the bat as an echo, giving the bat the information of the size of insect and its location. Most bat sonar pulses are beyond the range of human hearing.
Two Adelaide bats are within our range of hearing, these being:
Yellow-bellied Sheathtail Bat (Saccolaimus flaviventris)
White-striped Freetail Bat (Tadarida australis)
There is a lovely book available now through CSIRO – 'BATS – Working the Night Shift'.
This is an excellent book if you wish to learn more about Echolocation and anything else about our beautiful Australian bats! Dr Greg Richards and Dr Les Hall are the wonderful authors.
Bat Conservation International also have an Educational Manual called 'Discovering Bats' which has a very informative section on Echolocation.
Microbat Care & Rehabilitation Process
We assess the bat for any injuries, and have Veterinarians who can assist us promptly with treatment and medications.
Depending upon the injury, some of the bats that have come into care go back to where they came from within a few days. Unfortunately, many require euthanasing due to their terrible injuries.
Only a small number of microbats are kept in permanent care if they are unable to be released back into the wild. Specialised Permits must be obtained from the Department of Environment, Water and Natural Resources to care for these specialised mammals.
In care, our orphaned pups receive Wombaroo Insectivorous Bat Milk Replacer (a wonderful South Australian product). Our juvenile and adult bats are offered mealworms, moths, crickets and woodies in general.  Supplementary additives such as Wombaroo Insect Booster (new product line), Wombaroo Small Carnivore/Insectivore Mixture and Missing Link (Omega 3 Supplement) are also provided as a medium/gut-loader for our insects prior to feeding to our bats. Visit Wombaroo for more information on these wonderful products!  
Fresh water is also a necessity daily as bats do enjoy, and require, their drinks of water.
Case Study: Gould's Wattled Bats
This is a photograph of mum (middle) and twin male Gould's Wattled Bats born in care.
These twin males were approximately 6 weeks of age in this photograph. The twins were born on 4 November 2007.
By approximately 3 months of age, these pups are weaned from their mother's milk and are independent, out in the night sky catching their own insects.
Further Reading
For some excellent Resources on caring for orphaned pups, please refer to Basically Bats, Batworld Sanctuary and the other wonderful carers listed under the Links & Bat Books / Educational Brochures sections.
Releasing Microbats back into the Wild
Bats MUST be able to fly extremely well before being released back into the wild.
They must be eating well.
Artificial roost boxes are provided for those bats that are to be in care for a longer period so when the time comes for release, their new/alternative home can be fixed to a nice tall tree. These boxes need to be fixed at 4 metres or more to avoid predation by cats and foxes. They require a clear flight path.
For further informative information on roost boxes, please visit FauNature, the Australasian Bat Society and our Links page.
Case Study: Western Broad-nosed Bat
This is a photograph of a Western Broad-nosed Bat (Scotorepens balstoni), juvenile female weighing just 5 grams!
Found exposed in the daylight on the ground. Tiny hole in wing membrane but otherwise quite healthy but still a youngster.
She was in care for two weeks before being released on a delightfully warm night with plenty of insects and century-old Eucalyptus camaldulensis (River Red Gum) hollows to choose from.
She flew away into the night. Sweet little one!