Do fish really feel pain?
You might assume yes, but you'd be wrong.
Kind of.
You see – it's complicated.
Dr. Ben Diggles has worked with government, aquaculture industry, recreational fisheries, and commercial fisheries throughout New Zealand, Australia, Asia and the Pacific Islands.
Ben's core work includes import risk analysis, fish and shellfish health, fish welfare, development of feeding attractants for aquaculture, and development of medicated feeds for aquacultured finfish.
In his spare time Ben studies the effects of declining water quality on our estuaries, and is active in his local community developing solutions to these problems, like Oyster Reef Restoration.
In this episode, we catch up on the latest scientific findings relating to fish pain and learn more about the Ikijime  method for killing fish captured for eating.
So let's find out if fish feel pain.
Podcast
Publications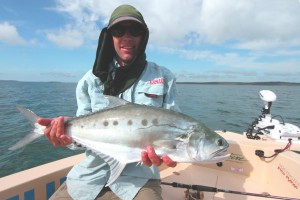 Rose, J. D., Arlinghaus, R., Cooke, S. J., Diggles, B. K., Sawynok, W., Stevens, E. D., & Wynne, C. D. L. (2014). Can fish really feel pain?. Fish and Fisheries, 15(1), 97-133
Diggles, B. K., Cooke, S. J., Rose, J. D., & Sawynok, W. (2011). Ecology and welfare of aquatic animals in wild capture fisheries. Reviews in Fish Biology and Fisheries, 21(4), 739-765.
Diggles, B. K. (2013). Historical epidemiology indicates water quality decline drives loss of oyster (Saccostrea glomerata) reefs in Moreton Bay, Australia. New Zealand Journal of Marine and Freshwater Research, 47(4), 561-581.
See more of Dr Ben Diggles' publications here
Ben also writes monthly columns on fish biology for the Australian Anglers Fishing World Magazine (since 1995) and Sport Fishing Magazine (since March 2003)
Ikijime tool Australia
Ikijime Tool app for Android via Google Play
Links
DigsFish Services (Dr Ben Diggles) website
Grey matter matters when it comes to feeling pain (University of Queensland) – do fish feel pain?
Video – How to ikijime fish
Header image: Flickr/phwff-nova